---
Coins (Müntsen)
ℓ5 brass coins were issued by the Royal Bank & Post in 2017. They can be ordered using the paypal form below. The coins are sold for 5 USD per coin (face value is 7.50 USD) + shipping.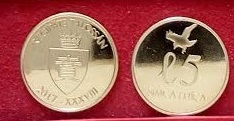 Order your coins from the Royal Bank & Post today!
Buy the Talossan ℓ5 coin for just $5 (USD) plus shipping!

---
Stamps (Carnets)
Currently, we've got one stamp available for purchase, the image below, printed professionally at 1 inch (2.5 cm) square, edges cut square, on self-stick adhesive paper (with backing paper). Stamps are ¤20 (50¢) each + shipping. You can select quantity after hitting the Buy Now button immediately below.

NB: Talossan postage is only recognized by the Talossan Pôst Naziunál, which is not a member of any international agreements (e.g., the Universal Postal Union). Further, the Pôst Naziunál currently has no way to deliver mail. But the stamps are nice collectors' items.
---