Entretz el Colêtx d'Armeux
Help Wanted – Join the College of Arms
Are you an erudite visionary with a talent for describing images with a precise and ancient language?

Are you a loyal subject of His Majesty who is seeking to contribute to the greater glory of the Kingdom and to the life of her many loving subjects?

If you hear the quotation, "Heralds never make puns – they cant", do you laugh?

If so – your future awaits you in the College of Arms!
The Royal Talossan College of Arms accepts applications for entry-level fellowships from motivated citizens wishing to join the College of Arms. This is an excellent position for go-getters who wish to develop significant heraldic and vexillological skills, and who want to build a high-powered network of the gentry and nobility of Talossa. You will work with specific heraldic assignments to research, study and document achievements of arms. You'll help the College of Arms by assisting with design assignments and building valuable customer relationships. And you'll learn a lot.
BASIC QUALIFICATIONS:
You must have exceptional written and verbal communications skills, a proven history of customer service experience, working knowledge of PC's and related graphic application tools, strong organizational skills, enthusiasm and a positive attitude. Experience with heraldry, vexillology and graphics programs like Paint Shop Pro or GIMP is desirable but not necessary. Advancement is possible for good people. Please note that this is an entry-level position.
EDUCATION/EXPERIENCE:
Prefer a four-year degree, or equivalent technical or military experience. Student internships are available.
KEY NOTICES
You must be a Talossan citizen to apply for this position.
All candidates will be considered without regard to race, colour, religion, sex, national origin, age, marital status, disability, height, weight, handedness, strength, dexterity, constitution, charisma or sexual preference. "Ugly" is not a protected class.
Veterans who have separated from the Talossan Navy or Royal Zouave Guard under honorable conditions are encouraged to apply.
Applications must be received before MIDNIGHT Talossan time of the closing date of the announcement.
Employment subject to completion of satisfactory personal and background investigations, and additional skills testing.
TO APPLY:
Please forward your resume, a targeted cover letter and your answers to the following skill-based examination to CollegeOfArms@KingdomOfTalossa.net.
Q1: What country's flag is "Argent a torteau"?

Q2: A famous international logo is "Or, a horse rampant sable". Name the company.

Q3: What is a Bonacon?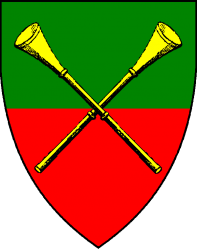 ---
College Home | Armorial | Burk's Peerage | Royal Academy of Vexillology | The Royal Gazette | Laws of Heraldry | Rules of Heraldry | Obtaining Arms | Getting Started | Glossary | Restricted Charges | Non-Talossan Arms | Court of Chivalry | Scholarly Works | The Library | Staff | Join the College