THE MONARCHY IS IN A TEMPORARY STATE OF REGENCY

Sir Alexandreu Davinescu has been appointed by the King to serve as Regent (14 October 2020 until further notice)
For various reasons, I have found myself unable to keep up with necessary work around here. I don't see the situation changing in the immediate future, and I'm about to leave town for a while during which I'll have very spotty access to the internet. Sir Alexandreu Davinescu has graciously agreed to act as Regent for the time being, and so …

We JOHN by the Grace of God King of Talossa and of all its Realms and Regions, King of Cézembre, etc. etc., do hereby appoint Sir Alexandreu to serve as Our Regent, until further notice. Done under Our hand Royal at the city of Centennial in Colorado, this 14th day of October in the year of salvation 2020, the 41st of the independence of Talossa, and of Our Reign the fifteenth.

King John (14 OCT 2020)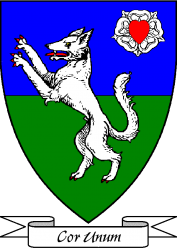 The King
---
His Majesty Regeu Ian, of the House of Lupul ("King John").
by the Grace of God, King of Talossa and of all its Realms and Regions, King of Cézembre, Sovereign Lord and Protector of Pengöpäts and the New Falklands, Defender of the Faith, Leader of the Armed Forces, Viceroy of Hoxha and Vicar of Atatürk.
The Monarchy
Talossa is a constitutional hereditary monarchy.
His Majesty Regeu Ian ("King John"), of the House of Lupul, assumed the throne on 14 March 2007, after an interregnum following the abdication of the minor King Louis. This abdication was given effect by act of Louis's legal guardian on 29 November 2006.
In accordance with Organic Law, John ascended to the throne after the former Royal House yielded no heir, and the Ziu recommended a candidate to the people, who was then ratified.
King John has been a Talossan citizen since 2005, and he served as what has been widely pronounced as one of the most able of Secretaries of State until just shortly before his elevation to the throne. Before assuming the throne, His Majesty also served as a Senator for his home province of Florencia, as Chancellor of the Royal Talossan Bar, and was the first holder of the position of Blanc Wolf Herald in the College of Arms. King John was awarded the coveted Order of the Nation and was admitted into the Knighthood in 2005.
The Royal Household is served by a number of non-political offices, whose officers maintain their position through changes in government, serving at the pleasure of the King as advised by the Prime Minister.
Most appointments are made by the King, although in most cases the King is constrained to choose for each office the person recommended to him by a specific officer (usually the Prime Minister) or legal procedure. By long-established tradition, appointments that the Prime Minister recommends to the King are usually announced publicly by the Prime Minister and are considered to be official unless the Sovereign explicitly requests a substitute recommendation.
The King may veto laws passed by the Cosa and Senäts, however the veto can be overridden by a 2/3 vote of the Cosa.
---
The Royal Family
The Royal Dog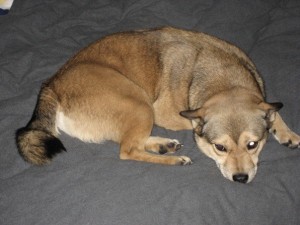 As per the provisions of Talossan statutory law 42RZ15, "Pup, a female shiba inu of almost unimaginable cuteness and sagacity, … the proud owner both of King John and of Prince James" enjoys the privilege of being La Caciun Uficial del Regipäts Talossan (the Official Dog of the Kingdom of Talossa), a post granted unto her for the term of her natural life, and in part as a bribe to get Prince James to embrace his long-suppressed Talossanity.
---
An Autobiography by Regeu Ián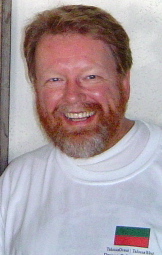 The first reference I ever saw to Talossa was on the "Micronations" page on Wikipedia. I was intrigued, went to the Kingdom's website, and after a bit of browsing wrote to the Immigration Minister (Sir Fritz von Buchholtz) to begin the naturalization process. I was granted Talossan citizenship ("the best thing money can't buy") on 7 May 2005, and (being a Coloradoan) became a citizen of Florenciâ province.
Sir Fritz was named Prime Minister on 20 August 2005, and immediately appointed me Secretár d'Estat (Secretary of State). I served the Kingdom in that capacity until resigning on 22 February 2007.
On the political side of things, I have served in Florenciâ's Nimlet — the Provincial Assembly —, which I am happy to say almost never does anything. I served in the 34th and 35th Cosâs, and from December 2005 until March 2007 was the Senator for Florenciâ. (The Senäts and the Cosâ do a lot.) I was a member of the Board of Directors of the now-defunct Conservative Loyalist Party.
I was the first Chancellor (and only Member) of the Royal Talossan Bar, the first Blanc Wolf Herald of Arms for the College of Arms (also time-consuming, but a load of fun), and a member of the GTZT (el Gremioûr Talossán dels Zesegñhéirs Telaragñheschti, the Talossan Web Designers' Guild). (My special expertise as a web-designer is to point out things around the website that Lord Hooligan needs to attend to — gruelling work, true, but now and then you just have to step up.)
On 30 November 2005, King Louis decorated me with the coveted "Për la Naziun" and admitted me into the Kingdom's most prominent Order of Knighthood, l'Urðëri dal Naziun — an honour I was (and am) immensely proud of. So I became Sir John!
And then, to my astonishment, the nation called me to a still higher service. After King Louis abdicated the throne on 29 November 2006, leaving no heir, the Ziu, for reasons best known to themselves, chose me as King in February 2007. This election was submitted to the people for ratification, and the nation ratified the choice of their elected representatives. I ascended the throne — the fifth King of Talossa — on 14 March 2007.
=====
People have asked about my coat of arms. The main design is a kind of pun (heralds call it "canting arms") on my surname, Woolley, which derives from Middle English "Wolfe-lee" — wolf-meadow, meadow of the wolf. (Other authorities derive Woolley from "Wold-lee", unforested land. A wolf, though, is way cooler than a non-forest.) The rose charged with a heart is my invention, and refers to a complex image in a sonnet I wrote, which you will find at the bottom of this page. The motto "Cor Unum" (Old Talossan for "One Heart") is taken from Ezekiel 11:19-20 — And I will give them one heart, and I will put a new spirit within you; and I will take the stony heart out of their flesh, and will give them an heart of flesh: That they may walk in my statutes, and keep mine ordinances, and do them: and they shall be my people, and I will be their God. — which pretty much sums up the whole point of my life — in my family, in Talossa, professionally, poetically, in my studying and preaching and everything —, to be "one heart" with God and his people, completely his and completely in love with him. Needless to say, I don't often come very near actually accomplishing this, as those who know me will testify; but it really and truly is what I want!
====
My Wikipedia user page has quite a lot of personal information about me.
An interview with me, mostly about Talossa in the eventful summer of 2005, appeared in this issue of Qator Itrins.
My sons, Princes Patrick and Peter, and my daughter, Danielle Southwell ("Nurse Nellie"), are Talossans, too. And Nellie's son, George, my first grandchild.
---
Cor Unum
O lover, pierced with sorrow, crowned with shame, deign here to be consoled, adored, caressed. Hide here thy face, a living signet pressed to willing wax; and I'll, soft, whispering, claim thee, veiled, my cherished own. Here slake thy flam- ing thirst, thy wounded head here, cradled, rest, safe on the flowery meadows of my breast. Listen — my heart beats nothing but thy name. Here, in this ardent ground, flower forth thy mys- teries of crown, cross, chalice, thou blest mart- yrs' prince, and fire-wine-apple-incense kiss- es shower on brow, throat, breast till thou, I part- less die, rest, rise and dowered with boundless bliss blooms, springs in both our breasts one rose, one heart.