Benvenescu àð Atatürk!
Welcome to Atatürk, home of Talossa's capital, Abbavilla.
Atatürk is Talossa's most northern province, bounded on the north by the United States, on the east by La Már Talossan, on the west by the Milwaukee River, and on the south by the Benito and Vuode provinces.
The province is divided into two Cantons: Fluvia-Montevudio on the west and Abbavilla on the east.
Perhaps you would like to see a map of our lovely province? On the other hand, perhaps you're more into history than geography, huh? In that case, I bet you'd like to read a history of the province.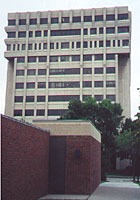 Or maybe you can't be bothered to look at either one, and you just want me to give you a fun fact about the province. Like hey, did you know that our Provincial Motto is

Ne mutlu Talossahyum diyene,
which means "What joy to he/she who says, "I am a Talossan")?
Well, did you?
And hey; take a look at the Atatürk provincial capitol building in Abbavilla — from here Atatürk province is run!
I imagine that's all it took, and by now, you're completely enthralled with Atatürk, aren't you? Yeah, I thought so. You looked pretty smart.
Atatürk! As many T's as all other provinces put together! Not to mention our corner on umlauts!
Read more about Atatürk on TalossaWiki!